Our Legacy lies in Our Solutions
Our expertise in water & waste water processing help customers with wide range of water treatment solutions for diverse industrial segments such as Automobile, General Engineering, Food & Beverages, Paper, Oil & Gas, Chemical & Process industries, Housing & commercial spaces and many others.
Fresh / Raw Water Treatment
With the growing compelling need for water conservation, Avana buids long-lasting partnerships with industries to be self reliant with their hall mark water treatment processes and services.
Drinking / Utility water supplies contain harmful micro pollutants Protecting from harmful Micro Pollutants, Pesticides, Pathogens, Chemicals, Minerals, fluorides and other contaminants and through our advanced solutions, selective harmful compounds are removed without causing damages to eco-system.
Sewage & Effluent Treatment
Avana offers solutions that are designed to treat harmful Sewage & complex industrial effluents through sustainable technologies and smart process techniques for highly effective water recovery systems thus reducing the burden on fresh water sources.
Based on the characteristics of the influents, our customised treatment solutions involve aerobic, anaerobic and chemical-physical processes and ably supported by state of the art membrane technologies for highly effective water recovery systems for ensuring compliance with statutory norms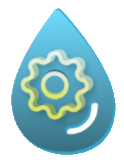 Zero Liquid Discharge ( ZLD )
Treatment of industrial effluents is complex and warrants recovery till the last drop of water. ZLD approach is to concentrate the wastewater through well designed multiple membrane systems and then dispose of it as a liquid brine or further crystallize the brine to a solid.
Avana offers user friendly ZLD Systems on Mechanical Evaporation and Natural Solar evaporation processes and condensation of permeate steam back to production process according to the demands and merits
Demineralisation ( DM ) / Deionization ( DI )
The term demineralization or Deionization is typically reserved specifically for ion exchange(IX) processes used for near total removal of ionic mineral contaminants.
Avana's DM & DI solutions are based on two popular technologies using Resin Based Demineralisation or chemical free Electro De-ionization for wide range of industrial and commercial applications according to their end use, with full service installation and commissioning services.